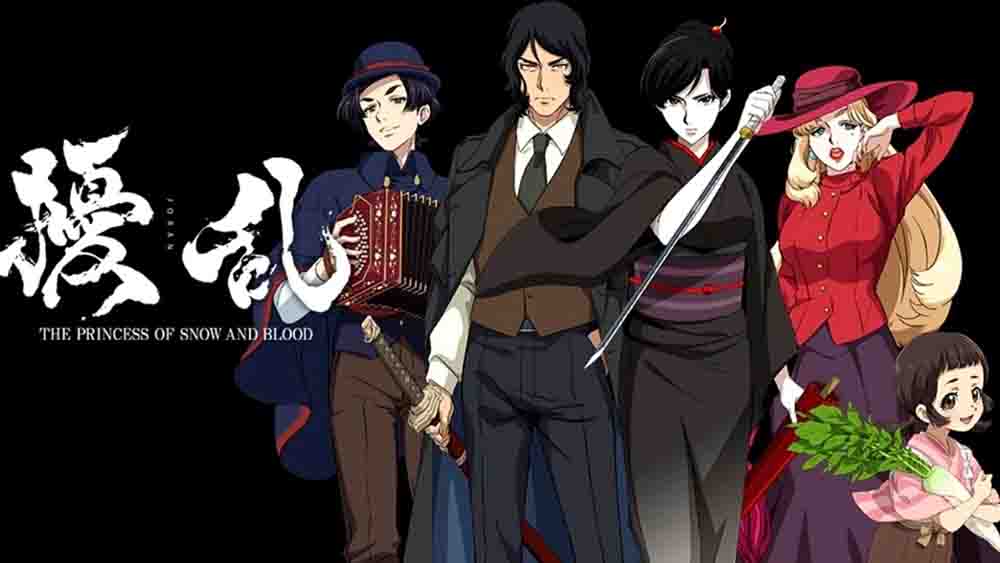 Jouran: The Princess of Snow and Blood Batch Subtitle Indonesia
Donlod nonton streaming video, otaku desu, meownime, anitoki, meguminime, oploverz, anoboy, otakudesu, batch, bd, animeindo, maxnime, nimegami, anikyojin, unduh, riie net, kurogaze, neonime, neosub, moesub, samehadaku, drivenime, streaming, awsubs, anibatch, nekonime, vidio google drive.
Informasi Anime
Japanese: 擾乱 THE PRINCESS OF SNOW AND BLOOD
Genre : Action, Historical, Supernatural
Seasons : Spring 2021
Producers: Dentsu, Tatsunoko Production, Bushiroad, Nippon Television Network, Bushiroad Music, Sonilude, HJ Holdings, Bushiroad Move
Type: TV Series
Status: Completed
Total Episode: 12
Score: 6.28
Duration: 22 min. per ep.
Released on: Apr 07, 2021
Sinopsis : Jouran: The Princess of Snow and Blood
Jouran: The Princess of Snow and Blood di tahun 1931, sejarah lain Jepang tahun ke-64 era Meiji. Ketika Keshogunan Tokugawa tak pernah dihapuskan dan Restorasi Meiji tak terjadi. Cerita anime ini berpusat pada "Nue", organisasi algojo shogun yang menjalankan pemerintahan.
Negara telah mengembangkan sumber energinya sendiri yang disebut; "urat naga" dan telah mencapai perkembangan unik dimana sains dan periode Edo bercampur. Namun, di balik keglamoran kota, organisasi pembelot Kuchinawa berusaha untuk menggulingkan pemerintahan, sementara Nue dari rezim Tokugawa yang dipercaya untuk menyingkirkannya justru sedang dalam konflik. (OtakOtaku)
Credit : Hunter no Sekai dan Okatsu
Link Download BATCH Jouran: The Princess of Snow and Blood
Download Jouran: The Princess of Snow and Blood Batch Subtitle Indonesia
Tampilkan Komentar