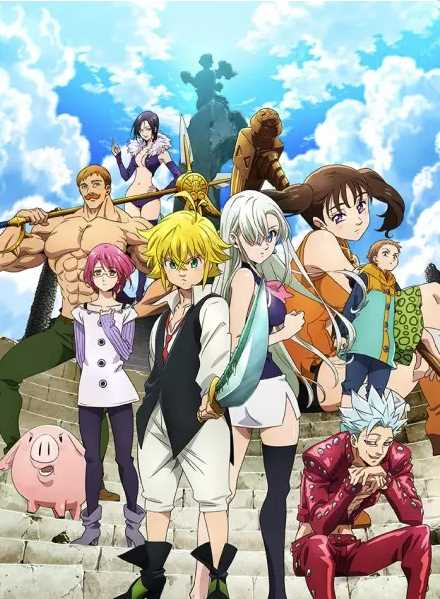 Sinopsis : Nanatsu no Taizai Season 3
---
Lanjutan dari season sebelumnya. Di mana Meliodas telah bangkit kembali setelah dibunuh oleh Estarossa. Dan kebangkitannya tersebut juga menjadi kemenangan baru Tujuh Dosa Besar melawan klan iblis. Salah satu dari Sepuluh Perintah Tuhan, Fraudrin telah dikalahkan. Dan Ksatria Suci Agung selanjutnya pun telah dipilih. Namun kedamaian takkan bertahan lama, lambat laun klan iblis dipastikan akan menyerang kembali. Sementara itu, Diane dan King belum mengetahui tentang kebangkitan Meliodas, dan mengira Komandan mereka tewas dibunuh oleh Sepuluh Perintah Tuhan. Diane dan King kembali ke Hutan Raja Peri untuk berlindung dari serangan Iblis. Namun di saat kedamaian telah mereka dapatkan. Tiba-tiba mereka berdua mengalami fenomena aneh di mana mereka bertemu kembali dengan Raja Peri Pertama, Gloxinia dan sang Raja Raksasa Drole. Apakah yang akan terjadi pada mereka?
Informasi Anime
Judul: Nanatsu no Taizai Season 3
Japanese: The Seven Deadly Sins: Wrath of the Gods, 七つの大罪 神々の逆鱗
Status: Completed
Studio: Studio Deen
Dirilis pada tahun: 2019
Durasi: 24 min. per ep.
Season: Fall 2019
Tipe: TV
Episodes: 24
Donlod nonton streaming video, otakudesu, meownime, otaku desu, samehadaku, unduh, riie net, drivenime, anitoki, meguminime, melody, anoboy, nimegami, kusonime, maxnime, animeindo, neonime, streaming, anibatch, anikyojin, nekonime, awsubs, kurogaze, vidio google drive.
Tampilkan Komentar