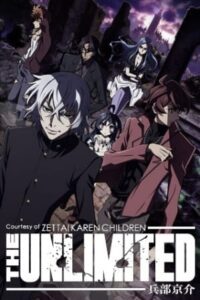 Sinopsis : The Unlimited Hyobu Kyosuke
---
The Unlimited Hyobu Kyosuke bercerita tentang Hyubu Kyosuke adalah seorang esper yang dikhianati rekannya sendiri bertahun-tahun yang lalu, sekarang salah satu esper terkuat itu menjadi buronan. Akan tetapi, di balik tatapan mengerikannya itu terdapat hati yang baik. Misi utama Hyobu adalah menyelamatkan para esper yang diperlakukan semena-mena oleh manusia. Dia akan melakukan apa pun untuk menyelamatkan esper, meski harus memakai kekerasan. Meski caranya kejam, dia telah menyelamatkan begitu banyak nyawa esper dan mendapatkan kesetiaan dari para esper yang pernah ia selamatkan. Dan nama kelompok espernya adalah P.A.N.D.R.A.
Informasi Anime
Judul: The Unlimited Hyobu Kyosuke
Japanese: The Unlimited Hyobu Kyosuke, 絶対可憐チルドレン THE UNLIMITED 兵部京介
Status: Completed
Studio: Manglobe
Dirilis pada tahun: 2013
Durasi: 24 menit per episode
Season: Winter 2013
Tipe: TV
Episodes: 12
Genre: Action, Shounen, Super Power, Supernatural
Donlod nonton streaming video, otakudesu, meownime, otaku desu, samehadaku, unduh, riie net, drivenime, anitoki, meguminime, melody, anoboy, nimegami, kusonime, maxnime, animeindo, neonime, streaming, anibatch, anikyojin, nekonime, awsubs, kurogaze, vidio google drive.
Tampilkan Komentar